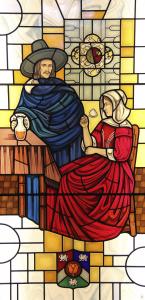 By Laura Gilroy
November 7th, 2013

Vermeer in Glass.
Vermeer's painting Inspires a new stained glass window.

Vancouver, BC - Johannes Vermeer is an acclaimed 17th century Dutch painter and also the inspiration for a new stained glass window recently installed by Gilroy Stained Glass in the foyer of The Vermeer building on Fourth Avenue in Vancouver's iconic Kitsilano neighbourhood.

The artists, John and Laura Gilroy, describe the design and creation of this project as "an exciting opportunity to use the traditional artistry of glass painting within a contemporary setting." and explain that "the window is an homage to Vermeer's painting The Glass of Wine, however, unlike the original seduction scene in the painting, our window depicts two figures enjoying a more subtle flirtation over a nice glass of wine."

Painting on glass is very different to painting with oils on canvas, in that it requires techniques of stippling and shading to...