May 19th, 2016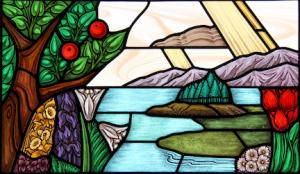 The theme of Creation lends itself beautifully to the commissioning of legacy stained glass artwork, with a rich source of flowing shape and colour to depict in this custom project.

Our client had a wonderful vision in mind to honour the memory of his loving wife who had passed away due to cancer. She had greatly enjoyed nature and they had explored many forests, gardens and ocean views in their happy life together in Vancouver.

Her husband commissioned two pieces of stained glass art for windows in the family room of his home to reflect the beauty of nature his wife loved so much. We worked with him to identify the aspects of creation that would flow best in this area, allowing the natural light to stream elegantly through the coloured windows into the room.

Together we decided on the exact details to depict his wife's interests, then I created a drawing. Once the elements in the drawing were agreed upon, shades and tones of mouth blown glass were chosen and cut, then painted by John.

Each element of the finished windows has richer meaning – The tree is symbolic of strength and the cycle of life, the mountains symbolize endurance, the lily for purity, the iris for faith and hope, the daisy for innocence, the violet for humility and the daffodil for the triumph of Divine Love. And the tulips were simply her very favourite.